Key accomplishments for the Family Acceptance Project during our first 20 years to establish the field of family acceptance and support for LGBTQ children and youth — from research to practice to informed public policy and evidence-based care.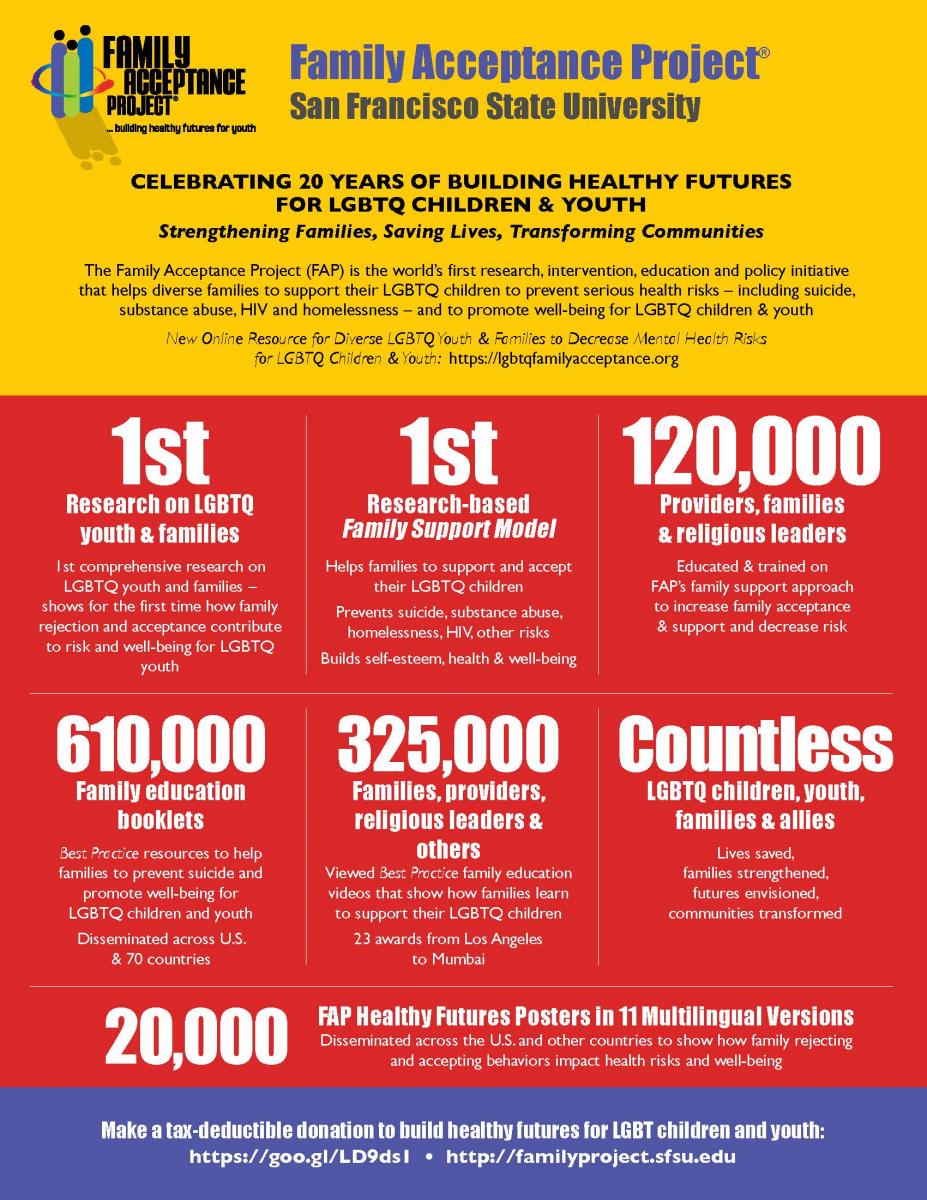 Celebrating 20 Years of Building Health Futures for LGBTQ Children & Youth — Strengthening Families, Saving Lives, Transforming Communities
The Family Acceptance Project (FAP) is the world's first research, intervention, education and policy initiative that helps diverse families to support their LGBTQ children to prevent serious health risks - including suicide, substance abuse, HIV and homelessness - and to promote well-being for LGBTQ children and youth.
1st Research on LGBTQ youth & families
1st comprehensive research on LGBTQ youth and families - shows for the first time how family rejection and acceptance contribute to risk and well-being for LGBTQ youth.
1st Research-based Family Support Model
Helps families to support and accept their LGBTQ children. Prevents suicide, substance abuse, homelessness, HIV, and other risks. Builds self-esteem, health & well-being.
120,000 Providers, families & religious leaders
Educated & trained on FAP's family support approach to increase family acceptance & support and decrease risk.
610,000 Family education booklets
Best Practice resources to help families to prevent suicide and promote well-being for LGBTQ children and youth. Disseminated across U.S. and 70 countries.
325,000 Families, providers, religious leaders & others
Viewed Best Practice family education videos that show how families learn to support their LGBTQ children. 23 awards from Los Angeles to Mumbai.
Countless LGBTQ children, youth, families & allies
Lives saved, families strengthened, futures envisioned, communities transformed.
20,000 FAP Healthy Futures Posters in 11 Multilingual Versions
Disseminated across the U.S. and other countries to show how family rejecting and accepting behaviors impact health risks and well-being.
Giving
Make a tax-deductible donation to build healthy futures for LGBT children and youth: