Our findings are used in a wide variety of ways to help families, providers, clergy, youth and policymakers to decrease risk and promote well-being for LGBTQ children and youth and to strengthen families.
We are continuing to release key publications and resources to make our findings, family intervention strategies and research-based practice information widely available for use in primary care, mental health, family services, schools, child welfare, juvenile justice and homeless services and congregations to build healthy futures for LGBTQ children and adolescents in the context of their families, cultures and faith communities.
Let us know if you can help disseminate our research-based resources, coordinate our trainings or help fund other cultural versions of our family education materials, including our award-winning family education booklets and videos.
We provide training on using our multicultural family education booklets and other resources with providers, religious leaders, parents, families, foster families and caregivers of LGBTQ youth. And we train on our evidence-informed family intervention model to reduce risk and promote well-being for LGBTQ children and youth in the context of their families, cultures and faith communities.
Family Education Information
Key information from our research on how families can help support their lesbian, gay, bisexual and transgender (LGBTQ) children. These family education booklets have been designated as "Best Practice" resources for suicide prevention for LGBTQ people by the Best Practices Registry for Suicide Prevention. We offer the booklet in three languages.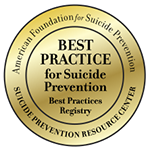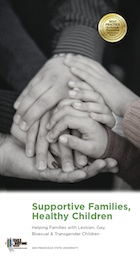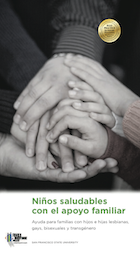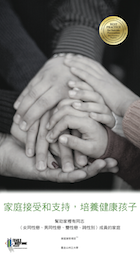 Latter-day Saint (Mormon)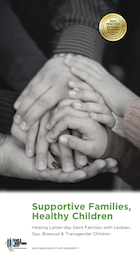 Establishing a New Field of Family Acceptance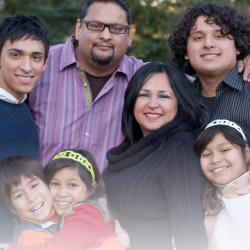 Background Information
Background on the Family Acceptance Project's research framework, family support approach and research-based resources to help diverse families to decrease rejection and health risks and increase acceptance and well-being for their LGBTQ children.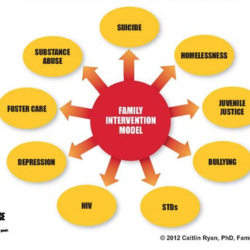 Generating a Revolution in Prevention, Wellness & Care for LGBT Children & Youth
Overview of the Family Acceptance Project®'s work to establish a new field of family acceptance and intervention to help families learn to support their LGBTQ children that puts this work in historical context.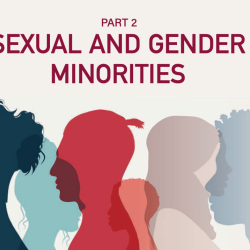 Trauma-Focused Cognitive Behavioral Therapy (TF-CBT) and Family Acceptance Project: An Integrated Framework for Trauma Recovery
Discussion of the integration of components from FAP's family support model and TF-CBT, the most widely used trauma treatment model for trauma recovery for children and adolescents.
Family-Oriented Practice Guidance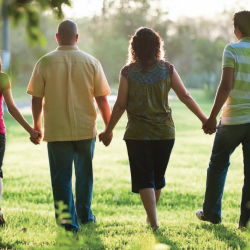 A Practitioner's Resource Guide: Helping Families to Support Their LGBT Children
Written by Caitlin Ryan, Ph.D., ACSW
First practice guidelines for engaging diverse families to decrease their LGBTQ children's risk for suicide, homelessness, HIV and other negative outcomes and to promote well-being, based on research and core principles from the Family Acceptance Project®
Published by the Substance Abuse and Mental Health Services Administration, HHS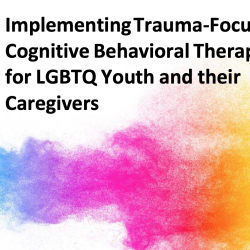 TF-CBT LGBTQ Treatment Manual – Includes Key FAP Components
Trauma-Focused Cognitive Behavior Therapy (TF-CBT) integrated key components of the Family Acceptance Project's (FAP) family support model into TF-CBT's treatment model to improve post-traumatic stress symptoms in trauma-impacted LGBTQ children and youth. To use TF-CBT's model and this manual, we urge providers to take TF-CBT's short online course and to learn more about using TF-CBT's model.
FAP provides on-site training on our family support approach to prevent risk and promote well-being for LGBTQ children and youth.
FAP Resource Guide
Guidance for using the Family Acceptance Project's multilingual evidence-based family education resources with families, providers, educators, religious leaders and others.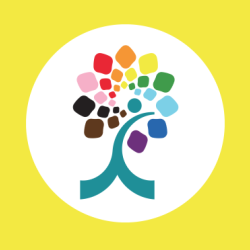 Treating Trauma - LGBTQ Children & Youth
Learn about integrating FAP and Trauma-Focused Cognitive Behavioral Therapy's (TF-CBT) models to provide trauma treatment for LGBTQ youth in this recorded webinar. The modified treatment model has shown a significant decrease in PTSD symptoms for LGBTQ youth.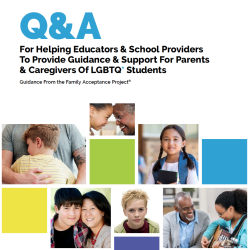 Helping Educators to Support Families of LGBTQ Students
Background information for helping school professionals to engage and provide support for parents and caregivers with LGBTQ students.
Selected Peer-Reviewed Research
Groundbreaking Research on Family Rejection of Lesbian, Gay and Bisexual Adolescents Establishes Predictive Link to Negative Health Outcomes
For the first time, researchers have established a clear link between rejecting behaviors of families towards lesbian, gay and bisexual adolescents and negative health problems in early adulthood.
Published in the January 2009 issue of Pediatrics, Journal of the American Academy of Pediatrics.
Family Acceptance of LGBTQ Youth Protects Against Suicide, Depression & Substance Abuse and Predicts Better Health & Self-Esteem
School Bullying, Violence Against LGBTQ Youth Linked with Suicide Risk, HIV & STDs in Young Adulthood
School Victimization of Gender-Nonconforming LGBTQ Youth Linked with Depression and Quality Of Life In Adulthood
Gay-Straight Alliances in School Benefit Health, Education of LGBT Young Adults
Policy & Practice Guidelines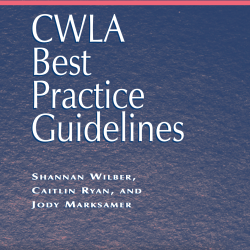 Best Practice Guidelines for Serving LGBT Youth in Out-of-Home Care
First guidelines for policy and practice for serving LGBTQ youth in child welfare and juvenile justice settings. Written by experts in the field and published by the Child Welfare League of America (CWLA) as part of their Best Practices series, this book is based on the work of the Model Standards Project and research from the Family Acceptance Project® informed and framed the guidelines.
The documents on this webpage might not be fully accessible to persons with disabilities. We are working to fix these accessibility barriers. If you experience difficulty in accessing this content, please contact the Family Acceptance Project by email at fap@sfsu.edu and we will provide you with accessible alternatives.