Descargue debajo las versiones y tamaños de los carteles que desea imprimir. Dele a su imprenta las especificaciones para imprimir compartidas aquí y pregúnteles si necesitan un documento con o sin líneas de corte. Le estamos compartiendo todas las versiones de nuestros carteles para que pueda descargarlos con o sin líneas de corte.
Especificaciones para imprimir los carteles del FAP
Dele la siguiente información a su imprenta para ordenar copias de los carteles:
Papel: Papel couché brillo de 350 gr
Tamaños: 24"x36" (60.96 x 91.44 cm), 18"x24" (45.72 x 60.96 cm), 11"x17" (27.94 x 43.18 cm), 8.5"x 11" (21.6 x 27.9 cm)
Por favor agregue .125" (3mm) de margen en los 4 lados
Color: 4/0 – color en un lado solamente
Por favor comparta una copia de la guía para el uso de los carteles con cualquier persona a la que le haya dado un cartel y pídales que nos envíen su correo electrónico para que podamos pedirles su opinión sobre el uso de los carteles (fap@sfsu.edu).
IMPORTANT
Download and read this Poster Guidance first! Give this Guidance to families, providers and others when you give them the posters so they can also learn this information.
This Guidance:
• Tells users about the research behind these posters
• Gives suggestions for how to use the posters at home with your family and in education, counseling, support groups and assessing family reactions to LGBTQ young people to provide family support services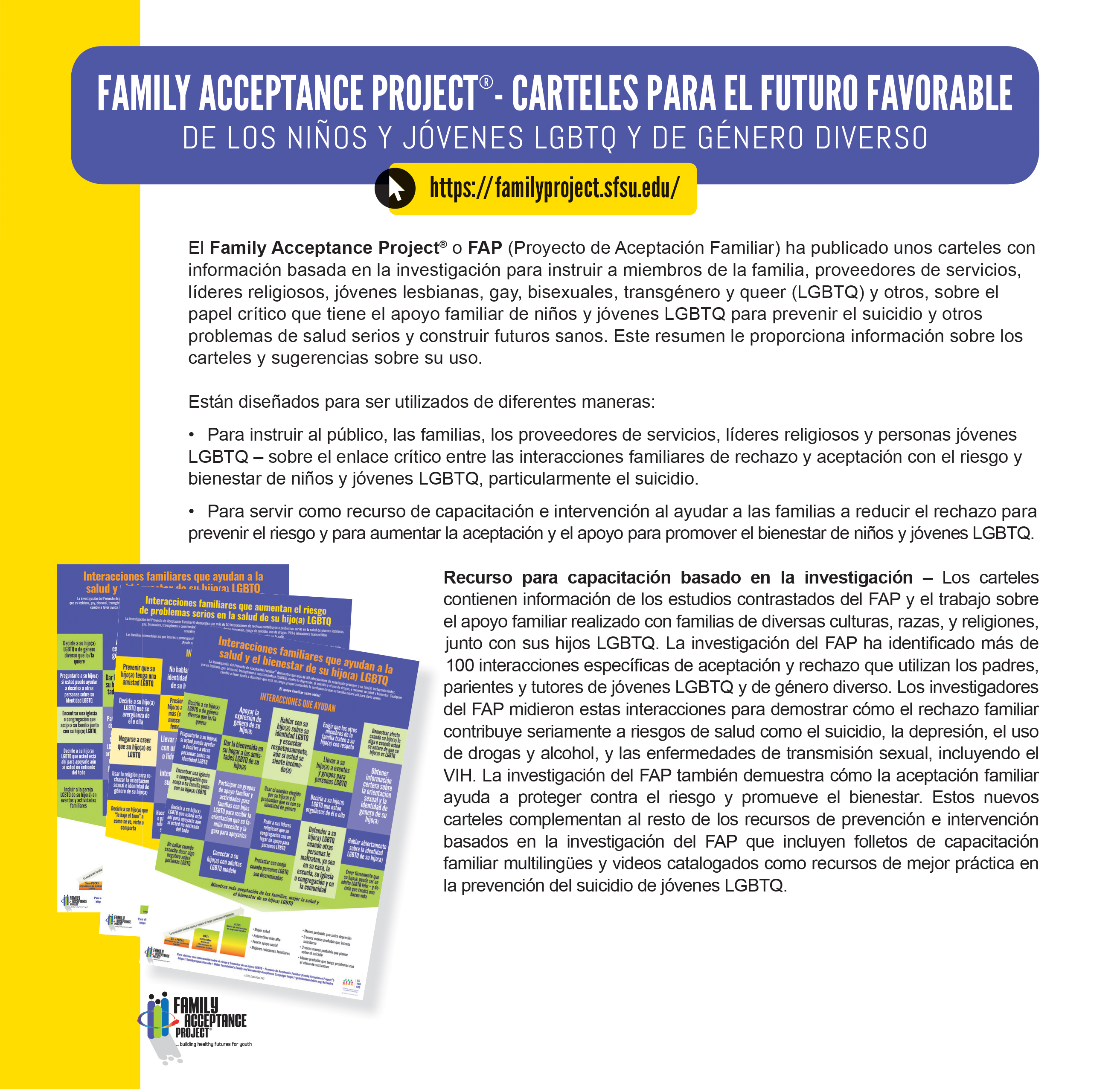 The documents on this website might not be fully accessible to persons with disabilities. We are working to fix these accessibility barriers. If you experience difficulty in accessing this content, please contact the Family Acceptance Project by email at fap@sfsu.edu and we will provide you with accessible alternatives.