Online Resource to Help Decrease Mental Health Risks & Increase Well-Being for LGBTQ Children & Youth
The Family Acceptance Project® (FAP) has developed the first online resource for diverse LGBTQ youth and families to help decrease mental health risks and promote well-being. This new website includes a national searchable map of community support services that affirm LGBTQ young people and help to increase family support, along with multilingual and multicultural evidence-based resources to increase family support for LGBTQ children and youth. Resources accessible through the new online site include: support services for LGBTQ youth; peer support for parents, caregivers and families; LGBTQ community centers; crisis services; LGBTQ health clinics; gender clinics; school supports; affirming faith-based organizations and resources; and a national list of culture-based resources for ethnically and racially diverse LGBTQ communities.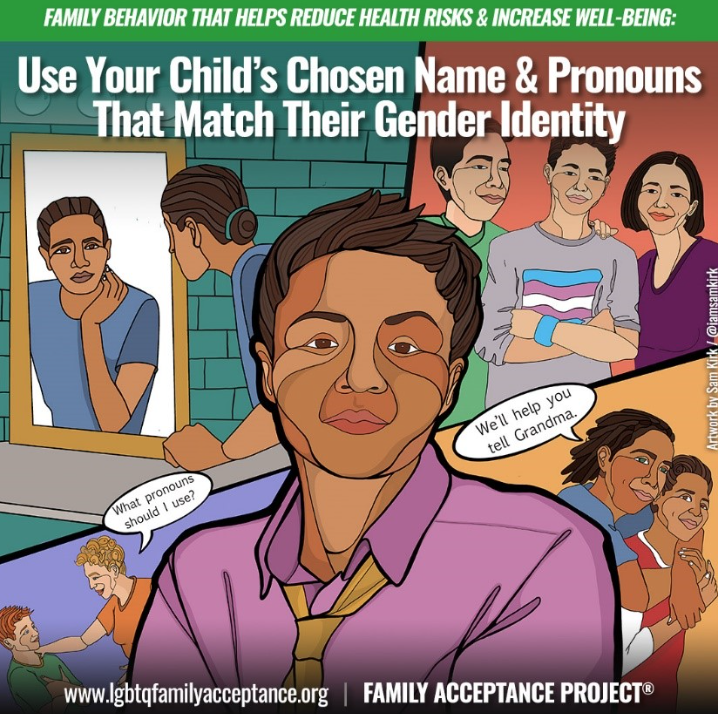 Family behavior that helps reduce health risks & increases well-being: use your child's chosen name and pronouns that match their gender identity.  "What pronouns should I use?" "We'll help you tell grandma."
To carry out this work, FAP collaborated with the Institute for Innovation & Implementation, a research-based organization at the University of Maryland School of Social Work that focuses on transforming systems to address the needs of children, youth and families with a specific focus on LGBTQ and gender diverse children and youth. FAP also collaborated with more than 60 cultural leaders and community members from diverse backgrounds who have helped us to develop culturally grounded educational resources for families, youth, providers and religious leaders; and with multidisciplinary artist, Sam Kirk, founder of Provoke Culture, a young award-winning queer artist whose murals and visual narratives explore culture, diversity and identity. The resource site was funded by the Upswing Fund for Adolescent Mental Health, a collaborative fund powered by Panorama.